"DANGER. Stay in your group. Do not remove the color-coded wristband and filtration mask provided to you. Use of deadly force has been authorized."
"We made it REAL damn far, people. I'm proud of you. Now let's just cross that last mile!"
The Waterfront Market is the main setting for the first chapter of The Parish campaign in Left 4 Dead 2.
This small market is located next to the Mississippi River and leads on to Bienville Park. It is home to fishing, food service, and boating businesses targeting tourists and local residents living in nearby apartment buildings. Individual businesses notably include a convenience store, a Jules' Fresh Crawfish seafood restaurant and a café/lounge that seem to create a vibrant city-life as well as night life.
Current Status
Edit
Once New Orleans was hit by the infection, people tried to escape the city by taking boats and sailing away; however, when the Survivors are dropped off by Virgil, some boats have been destroyed or became stuck in a traffic jam of other fleeing boats.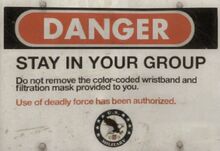 By this time, the military had taken over all CEDA operations and placed new sets of instructions and protocols for the public such as people staying in their color-coded group and to have people arm themselves and report strange behavior. The Army also began bombing the area because of the fleeing boats ensuring no carriers or infected escape the area and everyone proceeded through military checkpoints (as seen in The Park).
A half-sunken paddle steamer can be seen floating in the water as well as other trapped boats.
At this point, the military is seen taking over all evacuation and CEDA protocols.
Instead of trying to save everyone, people are reported being separated into color-coded wristband groups to prevent further spread of the infection.
The entrance to Bienville Park (the next chapter) can be seen on the waterfront market walkway.
Community content is available under
CC-BY-SA
unless otherwise noted.