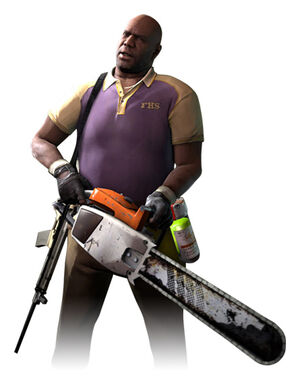 "My friends call me Coach. I guess y'all can do the same."
―Coach
"Ah shit, here they come!"
―Coach
"Highly contagious area. It sure is."
―Coach
Playing Left 4 Dead 2 is quite a fun game. I like to play as either Nick or Coach. I attempt to discover more about the Infected, their glitches and how to do maps the easy way on Advanced. Can do Expert but because everyone know how bots work I won't do it yet.
My favorite quote from Nick: "Mother of mercy! This thing is killing me!"
My favorite quote from Coach: "OH SHIT!"
Rush weaponry (primary): AK-47/Sniper Rifle > Grenade Launcher > SCAR-H (the burst fire) > M16
Rush weaponry (secondary): Katana/Machete > Dual Pistols > Magnum
Headshot weaponry (primary): Sniper Rifle > Hunting Rifle
Headshot weaponry (secondary): Melee weapons that cut off heads
Rush: Complete a map as quickly as you can, wasting any supplies found on the way. Quite fun doing it this way though.
Headshot: Headshot as much Infected as possible while keeping a great accuracy and headshot score. Takes extremely long and I only do this when bored.
| | |
| --- | --- |
| | This user feels sad to see Bill gone because he's awesome. |
Community content is available under
CC-BY-SA
unless otherwise noted.