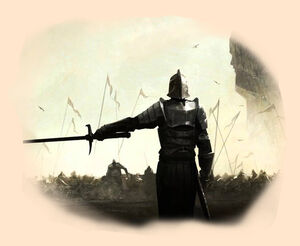 "And Kazran stood alone at the Gates of Reliquiae, to shield his people from the Feles onslaught. "Thy army is great, but I cannot be broken. For in my heart I wield the fury of Canis Tortulas, and all will behold the awesome power of Five Dog.""
―From the Liber Quintus, Book of Fortissimus, 15:5
This page is a vessel through which you can communicate with Kumadras (or "Five Dog", as his name translates poorly into English).
Feel free to ask any questions you may have or suggest any ideas you want to talk about on this page.
You are always welcome in Five Dog's inner sanctum. Stay, rest a while, and grab some ammo before you head back out.
And if you'd like to stay longer, perhaps you should consider joining the Fifth Realm, and becoming a worthy Kumadran.

---
The Board of Five Dog's Followers
Feel like joining the list of followers?
All you have to do is ask, and follow all fifteen commandments (see below).
"Are you afflicted?" - Stigma-231
"To be close to Five Dog, I will become the Sixth." - Six Dog
"Hunters are awesome, yo. Don't be insulting the Hunter."
- Jo The Marten
"Five, do you know everything?" - Legofan94
"Hmm.... I don't really have a favorite quote...
...Unless it's a farm!!" - Crowbar
"Just make sure you get rid of anything clown-related first. I hate clowns." - TheCreaturenator16
"Louis must think all bikers are racist, or he must
just be terrified of Smokers." - Dr. Frohman
"Hail Five Dog or I will personally hunt you down forever!"
- GeneralOwnage55
---
These are Five Dog's Fifteen Commandments.
I.
Thou shalt love and care for dogs.
II.
Thou shalt never set fire to a lobster.
III.
Thou shalt always remember that there is always time for whimsy.
IV.
Thou shalt not eat any seafood on any day ending in "y".
V.
Thou shalt pretend that everything is shiny and as such will declare it so by yelling "Shiny!" in as odd a voice as thou can muster.
VI.
Thou shalt never believe in Purple Francis.
VII.
Thou shalt grab everythin' thou can.
VIII.
Thou shalt be a good person. Simple.
IX.
Thou shalt adore Hunters. Failure to do so, will evoke the wrath of Jo.
X.
Thou shalt understand that seeking help is what makes you stronger.
XI.
Thou shalt not read this Commandment.
XII.
Thou shalt say "thou shalt" every day.
XIII.
Thou shalt appreciate the Standard Grammar Nazi. However, thou shalt fearfully respect the Awesome Grammar Nazi.
XIV.
Thou shalt not notice that thy God is running out of Commandments.
XV.
Thou shalt go back and read the Commandments again.
Community content is available under
CC-BY-SA
unless otherwise noted.