Roblox: DeepWoken - The Loop
Play Sound
"Unless anyone has a better plan..."

This article requires a properly written walkthrough.
Please check the proper layout before contributing to the walkthrough.
Chapter 2
The Truck Depot Finale
Campaign
Crash Course
Crash Course Chapter Chronology

Chapter 1
The Alleys
Chapter 2
The Truck Depot Finale
"I want that truck."
―Zoey
"Hey Zoey, when I drive us outta here, don't shoot me alright?"
―Francis

For the actual in-game truck depot, see The Truck Depot.
The Truck Depot Finale is the second and last level in Crash Course.
This chapter takes the Survivors to a truck workshop where an armored bus (the Survivors refer to it as a truck) sits atop a raised service hoist in a vehicle depot workshop.
In what looks to be homage to the vehicle used in the Dawn of the Dead movie remake, the vehicle's modifications include scrap metal armor-plating and suitable zombie-proof barbed wire and a small bulldozer-type blade to resist attacks and break through the Infected's ranks.
Players must activate a generator to lower the hoist and so that they can enter and drive off through an attacking horde.
The finale poses three simultaneous combat challenges. Firstly, the hoist drops very slowly; secondly, the generator stalls and must be restarted; and thirdly, this is a Crescendo Event featuring waves of Infected (Common and Special) and two Tanks. This finale is difficult for the Survivors because the Infected can attack at close range and from virtually every direction.
Safe rooms are sparse in this town, better get out while you still can! Various graffiti mentions a truck at the depot, make your way there!
The Survivors think they can blow up a bridge and not face the consequences? The whole county is on them now, work with those mindless Common Infected to cover their van in their own blood.
The map only has one significant change, the removal of a shortcut by the alarmed car, as detailed above. When first added to L4D2, the large cargo containers on the finale had a slight cosmetic difference - more vibrant and varied colouring was applied over the top of the original textures. This colouring has been removed and the cargo containers now look identical to how they did in the original game as of The Last Stand Community Update. It is notable that, as this campaign was released during Left 4 Dead 2's development, it already had several of Left 4 Dead 2's randomised map elements even on the Left 4 Dead version, such as the alarmed cars and open side rooms being different each play.
See also: Survival Mode
The Survivors arrive at the Truck Depot and they activate the generator, but the lift is stuck and the truck that they were hoping to use is now unavailable. The noise of the generator is bringing a lot of Infected onto them, how long can the Survivors last?
Overall Tips
Easter Eggs
[
]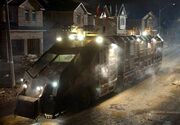 Notes
[
]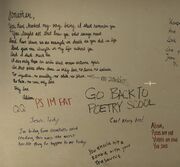 Gallery
[
]
Campaigns

Left 4 Dead

Left 4 Dead 2


No Mercy
The Apartments / The Subway / The Sewer / The Hospital / Rooftop Finale

Dead Center
The Hotel / The Streets / The Mall / The Atrium

Crash Course
The Alleys / The Truck Depot Finale

The Passing
The Riverbank / The Underground / The Port

Death Toll
The Turnpike / The Drains / The Church / The Town / Boathouse Finale

Dark Carnival
The Highway / The Fairgrounds / The Coaster / The Barns / The Concert

Dead Air
The Greenhouse / The Crane / The Construction Site / The Terminal / Runway Finale

Swamp Fever
Plank Country / The Swamp / Shanty Town / The Plantation

Blood Harvest
The Woods / The Tunnel / The Bridge / The Train Station / Farmhouse Finale

Hard Rain
The Milltown / The Sugar Mill / Mill Escape / Return To Town / Town Escape

The Sacrifice
The Docks / The Barge / Port Finale

The Parish
The Waterfront / The Park / The Cemetery / The Quarter / The Bridge
Non-Canon

The Last Stand
The Lighthouse

Cold Stream
Alpine Creek / South Pine Stream / Memorial Bridge / Cut-throat Creek

Dam It
(unfinished)
Orchard / Campground / Dam

The Last Stand
The Junkyard / Lighthouse Finale