The Screaming Oak

State
Whispering Oaks Amusement Park, Griffin County, Georgia
Campaigns
Dark Carnival
"As soon as I hit it, get ready to run!"
―Nick
"You mean we actually get to ride The Screaming Oak? This is the BEST day of my life!"
Located next to the Tunnel of Love and The Barns, The Screaming Oak is another major setting locale of the third chapter, The Coaster, in the Dark Carnival campaign in Left 4 Dead 2.
This ride is the pride and signature attraction of Whispering Oaks Amusement Park. It is a wooden roller coaster that follows the theme of a scary haunted house. It is located next to the Tunnel of Love and provides entertainment and thrills to visitors seeking an adrenaline rush.
For public liability and safety reasons, riders are required to be at least 48 inches tall (121 cm) and to remain seated at all times. The cost of admission is set at standard six tickets - which is common to the rides in
Kiddie Land
and the Li'l Peanut Rocket Carousel.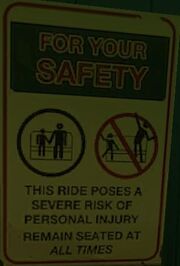 Current Status
Edit
When the infection spread near Whispering Oaks Amusement Park, riders abandon it and headed for the CEDA evac site at the Peach Pit stadium. It seems however, that a few stragglers may have used the ride as a vantage point to shoot the infected as it seems the ride was in the middle of its run cycle and not at the beginning of the ride (where it should have been). It seems they got to a point and then left the coaster in the haunted house and ran towards the stadium.
The Survivors come through the Tunnel of Love ride, hop over the fence where they are forced to finish the roller coaster cycle to be able to proceed onward to the safe room. Once they re-activate the coaster, the alarm sounds due to the incompletion of the cycle and the Survivors have to run through the track to get to the operator's station and shut off the alarm alerting the horde.
Once they get through the twists and turns, the ups and downs of the roller coaster track, they finally deactivate the alarm and are able to safely proceed on to the safe room where they can rest and catch their breath.
Apart from Kiddie Land, Ellis apparently also loves this ride as well. He claims it the best day of his life when he gets to run the coaster and when he starts the Midnight Riders Finale in the Peach Pit stadium.
The Screaming Oak is based on a haunted house theme.
Nick will sometimes make a comment thanking God that the ride does not do any loops.
The Screaming Oak was supposed to explode somehow in-game, as seen on the Zombie Survival Guide Trailer.
Community content is available under
CC-BY-SA
unless otherwise noted.