World of Warcraft: Dragonflight - The Loop
Play Sound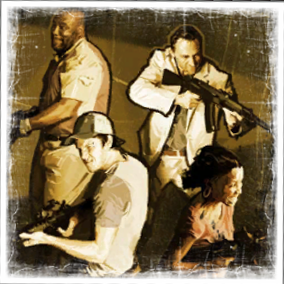 Survival Mode is a game mode initially released as Downloadable Content from Valve Corporation; the Survival Pack. This game mode throws waves and waves of the Infected at the Survivors until they get fully overwhelmed via every survivor dying or or getting incapacitated. There is no way to win, as instead the goal is to survive as long as you can and set new records.
There are currently forty-three different maps to play on in Survival Mode, thirty lifted almost directly from the campaign mode, along with a formerly Left 4 Dead 1-exclusive map called The Lighthouse that is attributed to a campaign called The Last Stand, which was released as part of the pack.
In almost every Survival map, several areas are cut off to prevent reaching the saferoom or overpowered holdout spots. Such examples include boarded up doors/ladders and restrictive barriers cutting the area off from the rest of the map. The only map that is not affected by this is The Atrium in Left 4 Dead 2.
Gameplay
[
]
Each survival match starts with indefinite setup time, allowing you and your team to scour the map for useful items. Teams will find health kits, tier 2 weapons, pipe bombs and molotovs, pills, propane tanks, oxygen tanks, and gas cans scattered around the area. Each Survivor automatically spawns with pills, a health kit and dual pistols.
Setup time ends once the designated radio/button (typically re-using the chapter's radio/button for a Crescendo or Finale Event in the campaign) is used, and will start the timer on top of the screen. A horde will be called as infected start to spawn, and the intensity escalates from there.[1] The AI Hunters gain an area of effect stun on survivors near pounced teammates, twice as long as a Hunter's stun in Versus mode.
Survival mode gameplay in Left 4 Dead 2 remains similar to Left 4 Dead's survival mode, with the difference being the new items and infected.
More items for the survivors such as Adrenaline shots, Bile Bombs, more varied weapons and weapon upgrades, and the addition of Uncommon Infected and more Special Infected results in a different gameplay experience compared to Left 4 Dead. Moreover, the Jockey, alongside the Hunter, gain the area of effect stun on survivors near pinned teammates, which is twice as long as in Versus mode.
There is a variant of Survival Mode, a mutation called Versus Survival. Following both Versus and Survival formulas, the Special Infected are played by a human team and both teams must compete for a better time than their opponent to continue the game until one team fails. This mutation became an official game mode as part of The Last Stand Community Update on September 24, 2020.
As always, teamwork and staying together are necessary for survival. Beyond that, survival strategies vary from map to map and from team to team. It is possible to obtain a Gold Medal achievement by utilizing just one area of a map, but some may find it more advantageous to move from time to time in order to get more items, ammo and avoid the Tank. And on certain maps, it can be beneficial to stay in motion and run "laps" around the map to prevent infected from catching up. Difficulty increases with time as supplies dwindle, and surviving often involves fending off multiple Special Infected and at times, multiple Tanks.
As with Versus mode (in Left 4 Dead), the melee fatigue cooldown applies.
It is always best to hole up by gathering as much resources and finding the best spot possible before setting off the Horde. For example, preparing special ammo boxes and placing Gas Cans/Propane Tanks in a secure spot can allow the team to grab it quickly in the event of a Tank attack if they do not have any Molotovs on hand.
Once the horde is alerted, the Director will send groups of Common Infected (Uncommons will appear if they can be found in that level; for example, all Hard Rain survival maps will have Worker Infected). The Director will then start spawning Tanks after 40 seconds. The times the Tanks appear are irregular, and the Director can occasionally send two Tanks at the team in conjunction with Special Infected and a horde.
Playable Locations
[
]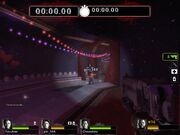 Left 4 Dead
None of the Survival Achievements are present in the Xbox 360 version of the game as the Survival Pack is a free DLC.
BRONZE METTLE
Earn a Bronze medal in Survival mode on any official level.
---
SILVER BULLETS
Earn a Silver medal in Survival mode on any official level.
---
---
---
HEROIC SURVIVOR
Earn at least a Silver medal on every official Survival level.
---
---

Left 4 Dead 2
PC exclusive
[
]
GETTING STARTED
Earn a bronze medal on any official survival map.
---
ON OUR WAY
Earn a silver medal on any official survival map.
---
THIS IS WHERE THE FUN BEGINS
Earn a gold medal on any official survival map.
---
A LITTLE HACK AND SLASH
Earn a bronze medal on every official survival map.
---
LIKE LAMBS TO THE SLAUGHTER
Earn a silver medal on every official survival map.
---
KILLING SPREE
Earn a gold medal on every official survival map.
---
GOLDEN FREEMAN
Find the golden crowbars hidden in the Left 4 Dead 1 survival maps.
---
SUPREME SURVIVALIST
Survive for 30 minutes on any official survival map.
Tips and Tricks
[
]
These tips are for general purpose, not for specific maps.
Notes
[
]
References
[
]
Gameplay Modes

Introduced in Left 4 Dead
Introduced in Left 4 Dead 2
Single Player
Campaign
Versus
Survival
Scavenge
Realism
Mutation
Realism VS
Versus Survival