"Your own custom apocalypse. Discover and download new maps, Add-ons, Mutations and more! Want to try your hand at modding or want to upload your mod to Steam? Click here to learn more."
―Workshop description
The Steam Workshop is a database for uploading to user-created content available on Steam. The only game in the Left 4 Dead series with Steam Workshop support is Left 4 Dead 2.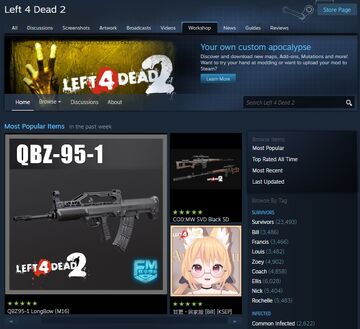 It was introduced after the February 7, 2013 update along with most other games such as Counter-Strike: Global Offensive, Team Fortress 2 and notably Garry's Mod.
The Workshop is split into various categories, such as Custom Campaigns, weapon/skin mods, sound mods, UI mods, and other kinds of modifications. These can be downloaded by clicking "subscribe" and deleted by clicking "unsubscribe".
This made acquiring addons easier since it automatically updates the addon when needed, unlike manually placing one. Furthermore, if a user has multiple devices, it will download the mod to any that the user downloads Left 4 Dead 2 to, so long as they use the same Steam account.
On the downside, it does require a constant network connection to use the addons, though the game does not need a connection to play offline.
One can use multiple tags to search needed items. The items can also be sorted by the number of subscribers, popularity, the date of release over a specific time period. One can also add an item to their Favorites by clicking on the heart sign in order to easily find it later. Users may assemble multiple add-ons in Collections, so the others can instantly subscribe to all the add-ons from these at once.
Survivors
Infected
Game Content
Game Modes
Weapons
Items
Community content is available under
CC-BY-SA
unless otherwise noted.