New Pokemon Games - The Loop
Play Sound
The Sniper Rifle is a Hunting Rifle variant in Left 4 Dead 2. As a Tier 2 weapon, the Sniper Rifle deals high damage against Special Infected while still killing Common Infected in one hit. This weapon is extremely accurate at long ranges on account of the quality of its scope sight. It has a magazine capacity of 30 rounds, double that of the Hunting Rifle.
The Sniper Rifle is used by Zoey and Ellis (as well as Francis in the Xbox 360 version of Left 4 Dead 2).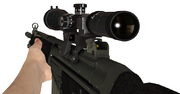 Official Description
[
]
A modified battle rifle, the Sniper Rifle is a dependable weapon when mobile and absolutely deadly when stationary. Use the scope for pinpoint accuracy, even from great distances.[1]
Tactics
[
]
Pros and Cons
[
]
Pros
[
]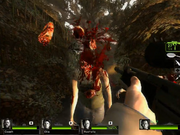 Cons
[
]
Behind the Scenes
[
]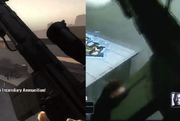 In the first footage released, the Sniper Rifle's magazine was shaped like the PSG-1's 5-round magazine, while later footage showed that the magazine is now shaped like the G3's 20-round magazine.
Early footage showed that the Sniper Rifle used the Hunting Rifle's animations. However, the Sniper Rifle was given new animations designed for it.
Notes
[
]


External Links
[
]
References
[
]