World of Warcraft: Dragonflight - The Loop
Play Sound
"My name's Rochelle. I produce a news show."
―Rochelle
"Hey, kill all sons of bitches, right?"
―Rochelle to Ellis, handing him his Grenade Launcher in the Zombie Survival Guide Trailer.
Rochelle (also known as Ro) is one of the four playable Survivors in Left 4 Dead 2.
She was employed as an associate producer on a television news station in which role she was sent on assignment to Savannah (the location of the first campaign) to cover The Infection's breaking story.
Her pink T-shirt features an image of the British electronic band Depeche Mode.
Rochelle's facial features are based on Shanola Hampton and she is voiced by Rochelle Aytes.
Official Description
Rochelle "Ro"
Age: 29
Hometown: Cleveland, OH
As a low-level associate producer for a big-name news station, Rochelle's job mostly consisted of lugging cables and fetching coffee. But when the outbreak hit and staff started calling in sick, Rochelle got her break: producing a segment from Savannah about the evacuation center located there. She was still setting up the cameras when her big story became a war zone.

But that doesn't mean she's letting go of her dream job yet. Surviving a zombie apocalypse is just something else she can use her wits and drive to produce the hell out of.[2]
Relationships with other Survivors
---
WARNING: The following is conjecture and may not be considered canon.
---
Rochelle plays the role of the "big sister" of the group, and almost everyone treats her with generous respect. Socially, she is also the character who gets the most congenial response from outsiders such as Francis and Whitaker. She is portrayed as sensible, levelheaded, and kind to everybody and as possessing a dry sense of humor that comes out, for example, in relation to the ostensible artistic and performance merits of the Midnight Riders and Jimmy Gibbs Jr.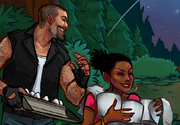 She also is the most sensitive to the Left 4 Dead Survivors' situation in the wake of Bill's recent death and gives them the option of not lowering the bridge at all.
Quotes
See: Rochelle/Quotes
Notes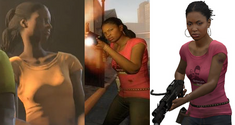 Gallery
References