"Eyes and ears, people. Eyes and ears."
This article needs attention and dedicated editors.
What needs to be addressed: Now that the game was dumped online, we can explore it and expand this page. For example, we can list minutely the alterations on each level of each campaign, create pages for the new characters and their dialogue, create pages for the new weapons and the new skins, etc. This game is the closest official thing we have as a "Left 4 Dead 3"..
Left 4 Dead: Survivors (LEFT 4 DEAD -生存者たち-) also known as Left 4 Dead: Arcade (L4DAC) is a Japanese version of Left 4 Dead 2 redesigned for Japanese arcades, featuring an entirely new cast of survivors.
The game still takes place in the United States featuring the same scenarios from Left 4 Dead and Left 4 Dead 2, but the characters are seemingly designed to appeal to a Japanese audience. This game was initially teased as Project Z before the actual game's reveal on April 30, 2014.[1][2]
The game used Nesica.Net to enable online play, events, and in-game items that could be purchased with ZG Points (in game currency gathered by playing and collecting ZG Bags) to get special items, costumes and clothing, and weapons. However, on July 26th, 2017, the game officially went offline, disabling these features, limiting the gameplay to Single Player, and Local Multiplayer.
Eventually, on March 2019, the game files were leaked. Quickly, fans of the series ported most of the game's content through Steam Workshop for Left 4 Dead 2.
Characters
Edit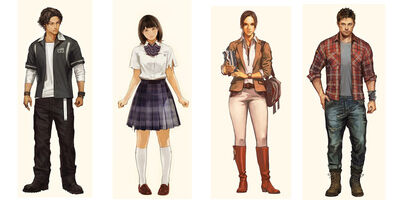 Stages (Campaigns)
Edit
Stage 1: Dead Center
Stage 2: Dark Carnival
Stage 3: Swamp Fever
Stage 4: Hard Rain
Stage 5: The Parish
Stage 6: The Passing
Stage 7: Cold Stream
Stage 8: No Mercy
Stage 9: Death Toll
Stage 10: Dead Air
Stage 11: Blood Harvest
Stage 12: Crash Course
Stage 13: The Sacrifice
Differences
Edit
External Links
Edit
References
Edit
Community content is available under
CC-BY-SA
unless otherwise noted.