New Pokemon Games - The Loop
Play Sound
Jazz Club

State
Rayford, Georgia

New Orleans, Louisiana

Campaigns
The Passing
"We can get in the tunnel through the jazz club."
"Stop bombing us!"
―Coach in New Orleans
The Jazz Club is a two-story (6.6 m) establishment that the Survivors passed through in two different Left 4 Dead 2 campaigns. One is located in Rayford and is the main entrance to the Rayford Historic Underground Tour in The Passing. The other is located in New Orleans on the way to Veterans Memorial Bridge, found in The Quarter of The Parish campaign.
History
[
]
Both clubs were once lively at night and filled with music and performers. The clubs were complete with a bar, a restaurant and a pool hall up on the second floor. Many people and tourists would come to listen to the jazz music and see the celebrity performers and socialize and cut loose for a drink.
Current Status
[
]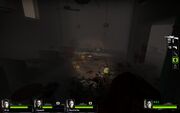 With both Rayford and New Orleans were nearly completely overrun by the infection and roads being blocked or barricaded off, it seems that many Survivors cut through the buildings to either get to the underground tunnels or the bridge.
Many have passed through both clubs as the corpses of many Infected can be seen and the walls covered with blood or the floor destroyed. In The Parish, the military was doing their bombing runs, destroying nearby buildings. It seems that the club is slowly being destroyed as the pieces of debris continued to fall.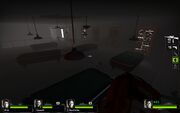 Notes
[
]
It is unknown if the Jazz Clubs are owned and operated by the same company (Like Burger Tank) or if the club names are just a coincidence.
It is unknown whether the military or armed civilians shot the Infected in the clubs.
Despite being a music club, no jukebox can be found in either of the clubs most likely due to the live performances that the clubs offered.