"Dark Carnival" is the third campaign in Left 4 Dead 2. It mainly takes place in Whispering Oaks Amusement Park in Griffin County, Georgia.
Description
[
]
The campaign starts off after "The Passing", where the Survivors rode on to New Orleans with Jimmy Gibbs Jr's stock car, which they had taken from Liberty Mall. Their luck runs out when they reach a highway filled with "miles" of parked cars that are impossible to drive around, forcing them to proceed on foot. They later notice searchlights coming from Whispering Oaks Amusement Park while heading for the motel. After finding that the evacuation center has been deserted and overrun like in Liberty Mall, they continue to press forward to try to find other Survivors within the park. On the way, they find a helicopter searching for any survivors and manage to get the pilot's attention by setting off the Midnight Riders' concert finale at the Peach Pit stadium.
Connected achievements
[
]
Main article: Achievements
---
---
---
---
---
GONG SHOW
(15G)
Prove you are stronger than Moustachio.
---
---
---
---
PC Exclusive
[
]
THE MAIN ATTRACTION
On The Concert Finale, survive until the helicopter arrives without leaving the stage.
Behind the Scenes
[
]
According to the level-designer from Valve, "Dark Carnival" had different finale, several physical and animated props and also the different area for "The Concert Finale". And for "The Coaster", it was planned as a monorail. The Survivors were to climb to a roof and jump atop the monorail from there. There was also a plan to have a barricade somewhere in the map, but the idea was scrapped.
Notes
[
]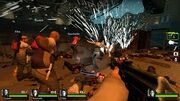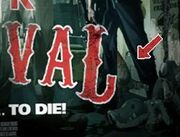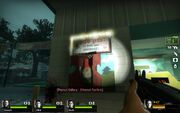 Campaigns

Left 4 Dead
Left 4 Dead 2
No Mercy
The Apartments / The Subway / The Sewer / The Hospital / Rooftop Finale
Dead Center
The Hotel / The Streets / The Mall / The Atrium
Crash Course
The Alleys / The Truck Depot Finale
The Passing
The Riverbank / The Underground / The Port
Death Toll
The Turnpike / The Drains / The Church / The Town / Boathouse Finale
Dark Carnival
The Highway / The Fairgrounds / The Coaster / The Barns / The Concert
Dead Air
The Greenhouse / The Crane / The Construction Site / The Terminal / Runway Finale
Swamp Fever
Plank Country / The Swamp / Shanty Town / The Plantation
Blood Harvest
The Woods / The Tunnel / The Bridge / The Train Station / Farmhouse Finale
Hard Rain
The Milltown / The Sugar Mill / Mill Escape / Return To Town / Town Escape
The Sacrifice
The Docks / The Barge / Port Finale
The Parish
The Waterfront / The Park / The Cemetery / The Quarter / The Bridge
Non-Canon Campaigns
The Last Stand
The Lighthouse
Cold Stream
Alpine Creek / South Pine Stream / Memorial Bridge / Cut-throat Creek
Dam It (unfinished)
Orchard / Campground / Dam
The Last Stand
The Junkyard / Lighthouse Finale