The Cricket Bat (also known as a paddle bat or simply a paddle) is a close combat weapon featured in Left 4 Dead 2.
It spawns in the following chapters: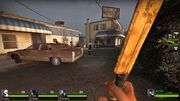 Melee Mechanics
Edit
Melee weapons replace Pistols in the secondary weapon slot. Unlike Pistols, close combat weapons never need to be reloaded and cannot run out of ammo (excluding the Chainsaw). They have two main drawbacks: a limited reach and (with a few exceptions) relatively long cooldown periods. Close combat weapons cause minimal friendly fire damage to the Survivors, even on Advanced and Expert difficulty levels (the Chainsaw is an exception).
These weapons are extremely effective. All melee weapons, on all difficulties, kill Common Infected and most Special Infected in one hit, aside from the Charger (which takes two - but see point below), the Witch (which takes four), and the Tank (which takes twenty, excluding the Chainsaw). Due to their death effects, it is generally advised to melee neither the Boomer (unless there is no choice) nor the Spitter (unless it is possible to move away immediately from the resulting acid splash).
The melee weapons appear to do more damage if an Infected's head or upper body is targeted. With the correct timing it is possible to kill a Charger with one hit while it is charging, allowing a Survivor to "level" a charge without first dealing damage to the Charger and to gain the achievement LEVEL A CHARGE.
The Cricket Bat is classified as a Bludgeoning weapon. It will spew blood on a user's screen and may decapitate Infected.
Achievements
Edit
---
HEAD HONCHO
(15G)
Decapitate 200 Infected with a melee weapon.
---
---
BEAT THE RUSH
(15G)
In a Survival round, get a medal only using melee weapons.
---
CLUB DEAD
(15G)
Use every melee weapon to kill Common Infected.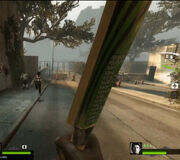 Left 4 Dead

Tier 1
Pump Shotgun / Submachine Gun
Tier 2
Assault Rifle / Auto Shotgun / Hunting Rifle
Sidearms
M1911 Pistol
Left 4 Dead 2

Tier 1
Chrome Shotgun / Pump Shotgun /
Silenced Submachine Gun / Submachine Gun
Tier 2
AK-47 / Combat Rifle / Assault Rifle /
Combat Shotgun / Tactical Shotgun /
Sniper Rifle / Hunting Rifle
Sidearms
P220 Pistol / Magnum Pistol
Special Tier
Grenade Launcher / M60

Other Weapons

Melee Weapons
Axe / Baseball Bat / Chainsaw /
Cricket Bat / Crowbar / Golf Club /
Guitar / Frying Pan / Katana /
Machete / Nightstick
Custom Melee Weapons
Foam Finger
Grenades
Molotov Cocktail / Pipe Bomb / Bile Bomb
Upgrades
Incendiary Ammunition / Explosive Ammunition /
Laser Sight
Other Weapons
Minigun / Heavy Machine Gun /
Gas Can / Oxygen Tank / Propane Tank /
Fireworks / Explosive Barrel / Cola /
Gnome Chompski
International Weapons
Combat Knife / H&K MP5 / SIG SG552 / Steyr Scout / Accuracy International AWSM