World of Warcraft: Dragonflight - The Loop
Play Sound
"...Portraying Bill as a once heroic army veteran, who though older and wiser, can still excel at physical combat."
―Ariel Diaz, Valve
"Bein' brave doesn't mean you're not scared. It means you're scared as hell, and then you pick up the shotgun anyway."
―Motivating an incapacitated Survivor he is reviving
William "Bill" Overbeck is one of the four playable Survivors in Left 4 Dead.
He is a Vietnam veteran who served in the U.S. Army 1st Special Forces Group, and is the oldest of the group. He is usually seen wielding the Assault Rifle (which appears as the M16A2, a real-life assault rifle used by the U.S. Military after the Vietnam War). He often has a lit cigarette in his mouth that only extinguishes when he dies.
Bill is killed prior to the events of Left 4 Dead 2's "The Passing" during the (canonical) events of "The Sacrifice". According to The Sacrifice comic, Bill was attacked by multiple Tanks after he went down to reactivate the stopped lift bridge generator to save his team from the oncoming Horde.
Bills' facial features are based on Bernard Fouquet and he was voiced by the late Jim French.
Official Description
William "Bill" Overbeck
Age: Unknown
Hometown: Unknown
It took two eventful tours in Vietnam, a handful of medals, a knee full of shrapnel, and an honorable discharge before the unthinkable happened: Bill ran out of wars. But now an army of infected has declared war on humanity. After decades of aimless drifting and dead-end jobs, Bill's finally gotten back the only thing he ever wanted: an enemy to fight.[1]
Background
Bill served 2 duties during the Vietnam war, during which he suffered a knee injury as a result of shrapnel boring into his knee, causing permanent damage. Two days after the first Infection, Bill was at a veterans hospital waiting for an operation, possibly relating to his knee injury. When a resident staff attempts to make small talk in regards to Bill's missing family along with his smoking habits, Bill tells him to go practice somewhere else.
As he undergoes anesthesia and slowly blacks out for the surgery, one of the nurses becomes an Infected and kills the operation room staff. Bill somehow staves off his oncoming unconsciousness through sheer force of will as he simultaneously fights off the Infected nurse, disabling her momentarily. Finding a bone saw and a knife to defend himself with, Bill fights the sudden rise of Infected outside the hospital to make it back home, where he equips his old military clothing which had been put away for safekeeping.
Relationships with other Survivors
---
WARNING: The following is conjecture and may not be considered canon.
---

Out of the other three Survivors, Bill stands out most prominently as the leader of the group.
The Survivors of Left 4 Dead 2 did not meet Bill before his death. However, Francis and Louis joke that Bill would probably have shot Nick quickly due to the latter's disagreeable personality.[9] Rochelle shows understanding and sympathy to Bill's death in certain lines to the original Survivors. Both Coach and Nick have multiple lines regarding the loss of Bill if his death is mentioned.
Quotes and Captions
Main article: Bill/Quotes and Captions
Behind the Scenes
Bill's original beta design was relatively similar to his current appearance. The main differences are in his clothing: a dark olive jacket with a hood and the POW flag on the right shoulder, beret with the 5th SFG insignia, a black military assault vest with the U.S. flag, dark gloves, and dog tags on the neck.
Notes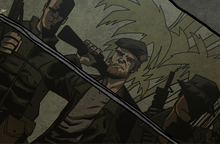 Gallery
Bill
People
Other
References