"Those bastards think they're sick now, wait'll they get a taste of this."
"Oh hell yeah, I'm takin' an auto shotgun."
The Auto Shotgun in L4D or Tactical Shotgun in L4D2 is a Tier 2 weapon and is a more powerful version of the Pump and Chrome Shotgun that does not require a pump after each shot. It also has a slightly higher DPS than the Combat Shotgun at point-blank. It holds a maximum of 10 shells at a time with 90 in reserve in Left 4 Dead 2. It is the best short-range weapon in the game, capable of firing extremely fast and taking out massive numbers of Infected per shot.
Both shotguns allow topping off the magazine on the fly, and the reloading process can be stopped to handle sudden threats. However, in Left 4 Dead if you are reloading when empty, you will cycle a shell into the chamber at the end of the reload, regardless of whether it was finished or interrupted; in other words, if you try to shoot after you loaded the first shell in the empty magazine, first you'll see the pumping animation only after which you can shoot. A good trick is to interrupt a dry reload after the first shell is loaded by clicking the fire button, because the following reloading process will proceed faster (in addition to that, this way you'll be able to fire the weapon any moment in case a threat appears). Another tip is just to reload constantly and always keep at least one shell loaded.
The relatively low capacity, low accuracy, and short range compared to other Tier 2 weapons make it slightly less effective against Special Infected. Its high damage output does allow it to wound a Special Infected seriously, but only at a dangerously close range. The exception to this is against Tanks, where the scatter of the shotgun is virtually all offset by the massive target a Tank presents. However, due to the damage penalty the Auto Shotgun has against Tanks, the Assault Rifle is preferable for them. Its rate of fire can be increased by quickly pressing the button instead of holding it down. It is generally a good idea to have at least one member of the team use a shotgun. Like the Pump Shotgun, it can kill a Witch with one hit if fired into her head while she is not attacking, making it useful for getting the "Cr0wnd" achievement.
The Tactical Shotgun is used by Francis and Coach (as well as Louis in the Xbox 360 version of Left 4 Dead 2).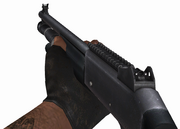 The Auto Shotgun returns in Left 4 Dead 2 with new animations, now referred to as the Tactical Shotgun. Its reserve has been reduced from 128 to 90, it does 33 less damage per shot total, and the Survivor always pulls the lever on the side when they finish reloading, as opposed to only when the magazine is empty. Compared to its new counterpart, it has a wider spread, less damage per pellet, and more pellets per shot.
Unlike previous games. This weapon cannot incapacitate a full health survivor with one shot on expert, although the damage is still fatal enough on that difficulty.
The Auto Shotgun is based on Counter-Strike's XM1014 automatic shotgun. Its "price" in the gun's weapon file is the same as the XM1014's, and it references the XM1014 in its "animation" listing.
Early footage shows that the Auto Shotgun used unmodified XM1014 sounds. A video of the Auto Shotgun using the XM1014 sounds can be seen here.
According to the Auto Shotgun's weapon file, it used to have a larger spread, less accuracy, fired two less pellets and had a 9-round magazine.
Main article: Achievements
GET SKEETED ON
Kill a pouncing Hunter with a shotgun.
---
SHOTGUN WEDDING
Kill the Witch bride with a single shotgun blast on Expert difficulty.

Left 4 Dead

Tier 1
Pump Shotgun / Submachine Gun
Tier 2
Assault Rifle / Auto Shotgun / Hunting Rifle
Sidearms
M1911 Pistol
Left 4 Dead 2

Tier 1
Chrome Shotgun / Pump Shotgun /
Silenced Submachine Gun / Submachine Gun
Tier 2
AK-47 / Combat Rifle / M16 Assault Rifle /
Combat Shotgun / Tactical Shotgun /
Sniper Rifle / Hunting Rifle
Sidearms
P220 Pistol / Magnum Pistol
Special Tier
Grenade Launcher / M60 Machine Gun
Other Weapons

Melee Weapons
Axe / Baseball Bat / Chainsaw /
Cricket Bat / Crowbar / Frying Pan /
Golf Club / Guitar / Katana /
Machete / Nightstick
New Melee
Shovel / Pitchfork
Grenades
Molotov Cocktail / Pipe Bomb / Bile Bomb
Upgrades
Explosive Ammunition / Incendiary Ammunition /
Laser Sight
Other Weapons
Minigun / Heavy Machine Gun /
Gas Can / Oxygen Tank / Propane Tank /
Fireworks / Explosive Barrel / Cola /
Gnome Chompski
Counter-Strike Weapons
Combat Knife / H&K MP5 / SIG SG 552 / Steyr Scout / Accuracy International AWSM
Community content is available under
CC-BY-SA
unless otherwise noted.